The Democratic Republic of Congo (DRC) lost an average of 0.57 million hectares of forest per year, and the rate of forest loss between 2011 and 2014 increased by a factor of 2.5, according to a new study by Global Forest Watch, Blue Raster, Esri and University of Maryland released On Tuesday, February 7, 2017. LUNARGLIDE 8 The study covers the period 2000 to 2014. Adidas Zx Flux Homme Bleu Environmental regulations and policies are poorly implemented in the DRC, the emerging hot spot analysis results show.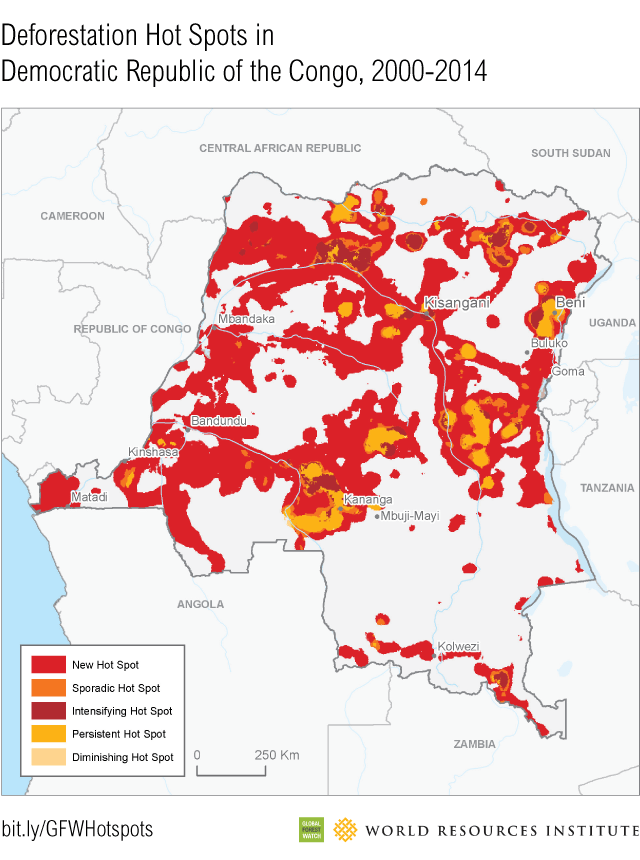 Vast areas of new hotspots intersect with intact primary forests and extend into several protected areas, such as the Sankuru Nature Reserve, the world's largest continuous protected area for great apes, says the World Resources Institute. ULTRA BOOST 2017
« New and intensifying hot spots of loss radiate out from the city of Beni in the eastern province of North Kivu, where longstanding civil unrest has led to a wave of human migration. Chaussures Air Jordan Enfant
However, recent easing of conflict and increasing economic growth are also seen in the results. Asics Aoldes New and intensifying hot spots are also found along road networks and near city centers such as Kisangani. Nike Free 5.0 Dames
Forests in these areas are likely being felled for agricultural land or charcoal production to accommodate a rapidly growing population, » write Susan Minnemeyer, Elizabeth Dow Goldman and Nancy Harris of WRI. Oregon Ducks Jerseys
The study also shows that Brazil lost an average of
2.7 million hectares of forest
per year between 2000 and 2014.
air max 95 damskie allegro
The rate of loss has however declined significantly since 2004.