Many African countries have in recent years shown phenomenal economic growth. But recent developments on global markets – including the drop in prices of commodities such as oil, copper, and cobalt – have raised questions about the sustainability of Africa's economic growth.
The instability of global market has lowered investors' confidence, and led to questions being raised about the health of the global market. There is a feeling of uncertainty and fears of financial global crises, especially due to a slow down in China's economy.
The impact of the fall in commodity prices, particularly minerals, is being felt in many countries around the world, including theDemocratic Republic of Congo (DRC). The DRC has been hit by the drop in theprice of copper. Glencore, the Anglo-Swiss multinational commodity trading and mining company headquartered in Baar, Switzerland, is considering closing some of its operations in Katanga province.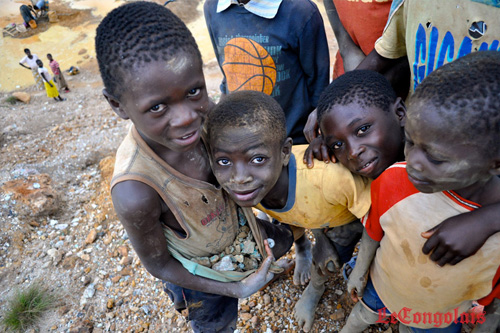 The DRC's economy is driven by agriculture, mineral resources, manufacturing and services. Over the past decade, the agricultural sector has been declining as the country's major contributor to its GDP while commodities-related industries have been rising. The mining sector accounts for one-quarter of the country's GDP.
Last year the economy grew by nearly 9%, driven by the extractive and manufacturing industries, agriculture, commerce and construction, and a high export demand for raw material. Sustaining this growth has now been threatened by the dramatic fall in commodity prices.
In addition, there are fears of increased political instability as  Joseph Kabila is accused of attempting toremain in power beyond his second and last five-year term.
According to the IMF, the DRC:
… remains a fragile country with vulnerabilities on the rise.
A shaking global economy with local impact
Closing mines in the Katanga province would have a devastating impact, with severe social and economic consequences.
Thousands of workers and their families depend on the mining industry. Mine closures would result in a large job losses. The company employs an estimated 5000 people in Katanga without counting subcontractors.
New cities and communities have been established and sustained through mining. Small businesses have been created and new forms of commodities trade initiated by people living in the areas surrounding the mines.
The impact of mining houses shrinking their operations could cripple the DRC's economy which is highly dependent on mineral exports. Up to 87.2% of the economy is export oriented.
According to the OECD, the DRC's exports were worth US$7.03 billion in 2013, making it the 103rd-largest exporter in the world. Refined copper accounted for one-third of all exports, followed by copper ore (19%), raw copper (7.5%), cobalt (8.8%), cobalt ore (6.9%) and crude petroleum 12%.
The country is therefore extremely vulnerable to commodity prices, or to drops in demand for minerals. The question that needs to be answered is: what should be done to avoid this permanent economic and social vulnerability?
Diversification is key
Many African countries, including the DRC, have for years maximised and concentrated their economic activities, at least at the macro level, in only one sector.
This lack of economic diversity and extreme concentration on one sector has never benefited the continent, and will never benefit the DRC. Diversification is key – not only for GDP, but for local economic development, small businesses and entrepreneurship.
In addition to this, the DRC relies heavily on Foreign Direct Investment(FDI), mainly financial investment, at the expense of local capital investment. The country should not be depending almost exclusively on FDI to run its economy. Rather, local as well as national companies should be allowed to invest in strategic sectors such as farming, agriculture, transport as well as mining.
There are other policies the government could put in place. These include:
The DRC should encourage and stimulate local investment and support start up businesses. Many of the economic or financial challenges that the DRC has known for many years are linked to economicdependency. It is imperative that the government creates a friendly environment for citizens to invest in their communities and get all the necessary support to establish and grow their businesses in a safe economic space.
The country must accelerate local economic inclusion by taping into the potential of the informal market. A big part of small trades are conducted by women and youth in the informal sector. These people constitute a class of informal entrepreneurs who, if supported financially and with the necessary skills and logistics, would be able to grow the economy and generate more jobs.
Strengthen interprovincial economic activities and integration based on small-scale economic activity and trade.
The role and place of women in local economic development needs to be considered and promoted.
It is important to mention that many efforts need to be deployed to insure sustainability, growth, and development of the DRC. Political stability and peace are also key for long-lasting economic growth and development.
YVAN YENDA ILUNGA, Rutgers University
Disclosure statement
Yvan Yenda Ilunga does not work for, consult, own shares in or receive funding from any company or organization that would benefit from this article, and has disclosed no relevant affiliations beyond the academic appointment above.
Click here to read the original article.