The UK Authorities charged with enforcing the EU timber regulations (EUTR), have taken action against 14 UK importers sourcing timber from Cameroon linked to illegal logging.
This news was presented at a Chatham House meeting in London on Thursday June 16, following comparable action by the Netherlands in early March, demonstrating that timber from Cameroon is coming under increasing scrutiny in international markets.
"Cameroon's authorities must examine this new set of sanctions and start investigating the companies in question as a first step to tackle the illegality and corruption in the timber sector. Furthermore, Cameroon must also ensure that the Voluntary Partnership Agreement co-signed with the EU is fully implemented to stop illegal logging and strengthen forest governance in Cameroon," says Eric Ini, Forest Campaigner for Greenpeace Africa.
Cameroon's forests are among the most species-rich in the Congo Basin, containing the region's most biologically diverse forests, providing valuable habitat for endangered Western Lowland Gorillas, chimpanzees and forest elephants amongst other species. Unsustainable and illegal logging is leading to deforestation, destruction of the ecosystem and diminished resilience to climate change. Creation of roads by logging companies facilitates bushmeat hunting, posing another key threat to Cameroon's biodiversity and often preventing proper regeneration of logged forest habitats. Uncontrolled logging operations in Cameroon are a frequent cause of social conflicts, as they frequently occur without the consent of forest dependent communities, who see their resource-base destroyed with rarely any benefit in return.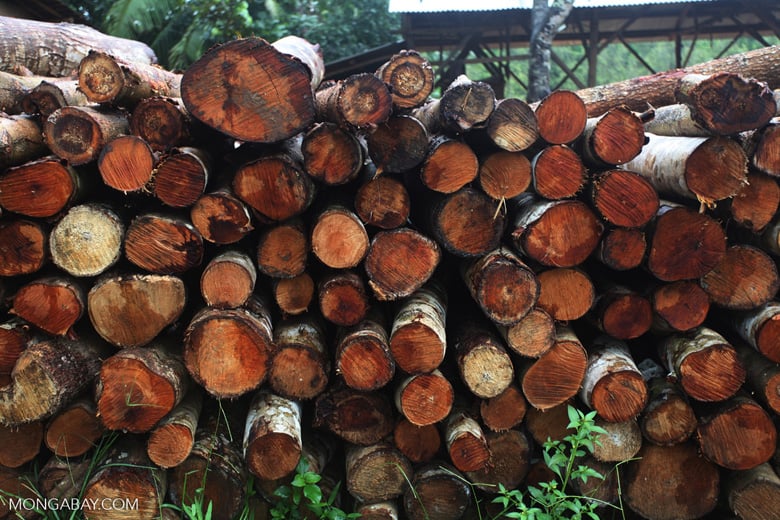 Since 2010, when the Voluntary Partnership Agreement (VPA) came into force, Cameroon's government has made little effort to tackle illegal logging. Following the announcement of Dutch sanctions, the government publicly defended the company accused of involvement in illegal activities instead of sincerely examining the results of Greenpeace's investigation into illegal logging and taking necessary action to rectify the issue.
Nonetheless, Greenpeace Africa has recently been advised by CCT that the government of Cameroon has ordered an audit targeting the company and its suppliers, though the Ministry of Forestry has yet to officially announce the audit. "We urge the government to severely sanction any company found to have acted illegally to deter other companies from indulging in similar conduct", said Eric Ini
Cameroon is so far considered a "high-risk country" by some European authorities: under European law, companies importing timber into Europe must demonstrate that they have taken strong measures to minimize the risk that imported timber is sourced from illegal operations – something that is almost impossible to do when sourcing from Cameroon.
"This action by the UK government sends a clear message to the timber industry that illegal timber has no place in Britain", said Richard George, Head of Forests, at Greenpeace UK. "Illegal logging is devastating Cameroon's forests, and companies in the UK and other EU countries are complicit in this destruction by ignoring their responsibility to check the legality of the timber they are importing. Belgium and Italy, as the biggest importers of Cameroonian timber to the EU, must stop turning a blind eye to suspect timber and actually enforce the law".
Europe is a major export market of timber from Cameroon and UK ranks 5th in the European community in terms of imports, receiving 64.000 m3 RWE a year. The main species exported to the UK are Sapeli, Iroko, Azobe and Ayous. It is estimated that the annual losses in revenues and assets due to illegal logging in Cameroon are US$5.3 million. In some studies these estimations are even much higher.